Car Rental or Taxi Booking Software System – Call My Cab
Call My Cab is a very convenient and cost- effective online taxi cab booking system that bridges the gap between taxi firm owners and their customers. It is a responsive taxi management software built on PHP with Codeigniter Framework; This is an effective, fast and responsive way for passengers to hire taxis and a powerful website to execute passenger requests. The major highlight of the software is the well-formed admin panel to monitor the entire process. The software is also for developers who are looking for car rental solution for their end clients.
Important Features of Call My Cab.
Fully Responsive & User friendly UI  design with admin panel
User Management
Driver Management
Promo Code Management
Helps to know booking details
Different Transfer Services
Taxi Management
Role Management
Google Map: Country basis
Mobile App Web Services and settings added
Currency Selection
KM to Miles selection
Multilingual option
Wallet option
Callback option
Multiple payment options like PayPal, Authorize.net, Braintree Payment Integrated.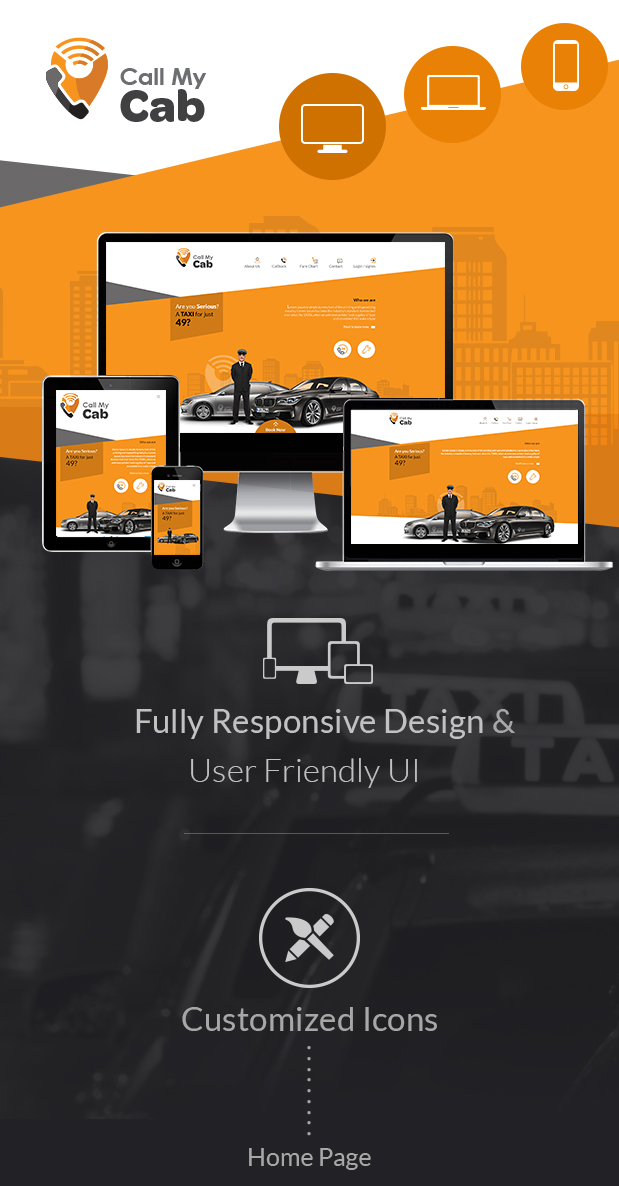 Advanced Features available
1.Enterprise UX Strategy
We designed Call My Cab for ensuring the needs of your customer for a best possible user experience.
2.Effective User Interface
With our detail knowledge and well experience we designed and developed user interfaces that are unique and meet your requirements.
3.User Management
Easy booking and payment.
Extensive ride details
4.Driver Management
Manage trip requests
Daily expedition reports.
5.Admin management
Efficient monitoring
Role management
Reports and analytic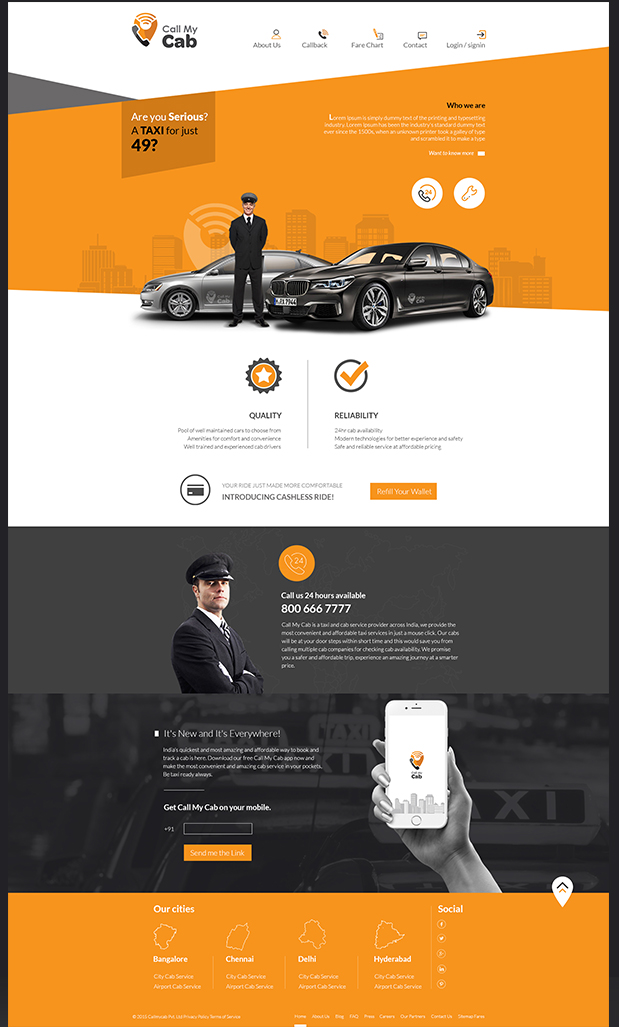 LOGIN DETAILS:
Explore our product using the below details
WEB URL: http://demo.callmycab.in
LOGIN AS A USER
Username: user
Password: user
LOGIN AS A DRIVER
Username: driver
Password: 123456
LOGIN AS AN ADMIN
http://demo.callmycab.in/admin
Username:admin
Password:admin
Possible additional enhancement of CALL MY CAB from Techware
Customization to show and track all drivers location on Admin Panel
Customization for Integration with Self Drive Car rental system
Customization to add different mode of vehicle like Bicycle, Motor Bike etc
Customization to develop a Uber Clone product and many more…
Customization to any level as per customers/clients requirement.
Please feel free to contact us for the above enhancement requirements. Our customization team will get back to you with a fair quote that values the penny you spend for. Contact us at info@techware.co.in. or visit us @ www.techware.co.in
So, if you are looking for an effective Online Taxi Booking Software, get in touch with us. We are having the expertise who built this software to assure high quality delivery, within budget and on time.
Why Choose CALL MY CAB?
We are providing the world's best-selling, Taxi booking and dispatch software to equip you to increase online Cab booking revenue, save time on management and to help your business grow. Our taxi booking software has already crossed 500+ sales in short time. Want to know how effectively Call My Cab work for your business?Click Here
Enjoy the Ultimate Hosting and Installation Service.
Here's a good opportunity if you are looking for a hosting and installation. This offers lots of features with good service and support. Everything you will ever need in one service with one time signup fee of $10. Don't miss out.
For availing, send a mail to support@techware.co.in with your purchase code.
*Promotional pricing is for the first term only and regular rates apply upon renewal.
TO GET SUPPORT, FOLLOW THE STEPS BELOW
FOR BUYERS
Raise a ticket to support@techware.co.in with your purchase code
Our agent will reply back to your ticket in 24 hours
For status updates please chat with our agent with your ticket number by visiting our website www.techware.co.in  at Indian time 9 am to 6 pm
FOR PRODUCT ENQUIRIES OR PRE-PURCHASE QUIRIES
Mail to support@techware.co.in with your enquiry details
Our agent will reply back you in 24 hours or
For live chat support, visit our website www.techware.co.in and chat to our agent. Ticket id is mandatory to chat with our agent.